Every Child, Every Nation, Every Day
Resouces & Supplies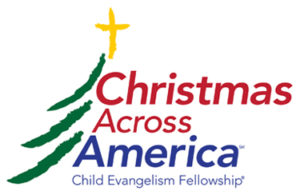 Christmas Across America
For ordering additional DVD copies of The Story of Jesus for Children at 100 for $100, please feel free to visit Children's DVD Offer or call 1-800-381-0911.

(

Read more

about Jesus Film partnering with Christmas Across America by providing 20 free DVDs in every Christmas party bag.)

The Pocket Testament League has published a Gospel of John (ESV) wrapped in a Christmas Across America package! Get your first 30 free (USA delivery). Greater quantities are available for a suggested donation of .65 each. https://www.ptl.org/code/products.php?view=USPJESV-CEFC Questions? usa@cefonline.com
Additional copies of Things You Need to Know may be ordered from CEF Press or your local CEF chapter. (25 are included in each kit)
T-shirts for CAA are available from Dirt Cheap Christian Wear.
1-11 shirts = $8.99 each + shipping
12+ shirts = $4.99 each and free shipping
The savings is significant if ordering 12 more t-shirts.
For orders less than 12 units, consider consolidating orders with another chapter.
Go to http://www.dirtcheapchristianwear.com/Christmas-Across-America_c_67.html