CAMEL Bears Fruit in Israel
-by Fadi Ramadan, CEF of Israel
At the Middle East CEF Conference our regional director challenged each of us to reach one percent of the children in our country through the Christmas Party Club (CPC) program. We praise the Lord that in Israel this goal was reached among the Arab children! During the two weeks of Christmas in 2016, 30 Christmas Party Clubs were held, reaching over 1,800 children (Christian and non-Christian) with the Gospel message.
The students who received CEF® training in two cities in Galilee were excited to reach out to unreached children. They handed out copies of The Wonder Devotional Book and shared The Wordless Book with children outside their family and church circles.
Two of the trainees were so enthusiastic that they opened their home for a CPC program, reaching out to their neighborhood children. One child came to me after one such program. He had received Jesus three years before and told me, "I prayed now with you, in my heart, telling the Lord that I accept the plan He has for my life, whatever that might be!" Oh Lord, help us have faith in You just as this little Fadi has.
The story chosen for the CPC program last Christmas for the Middle East Region was "The Hope of Three Trees." At first we faced opposition for deciding to use a "fictional" story instead of the original Christmas story as told in the Bible. But soon those complaints turned into compliments for choosing such a remarkable, meaningful story with such a clear presentation of the Gospel message. Young and old, teachers and students, Christians and non-Christians, pastors and Sunday school teachers were all moved to tears by the end of this wonderful story.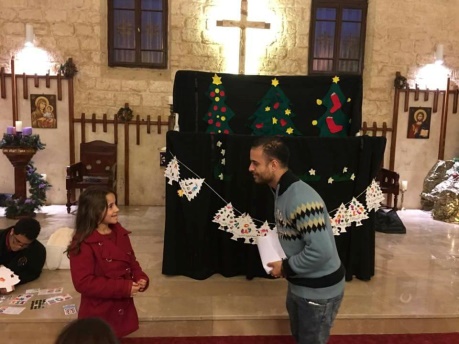 Lilian, a Sunday school teacher attending the CEF training course in Galilee, brought her children to our CPC program. She shared with excitement that she remembers attending the 5-Day Club® we taught when she was a little girl! She remembers how excited she was for the next day to come as she was so happy and interested in what she was learning. She said, "Oh, how I desire now this same thing for my children, that they would be as excited about attending club as I was."
We look forward to our 50th year of CEF in Israel. We see many plans, programs, dreams, and goals already set and expect to reach more children, train more teachers, open more doors, translate more materials, and much more. But most important, we seek to love the Lord more, worship Him more, know Him more and serve Him until He returns!
Stay Connected with CEF
Subscribe to our email lists to receive updates, news, and stories based on your needs and interests.