Camp Good News Has Lifelong Impact
-Jenna Weis
When I first arrived at Camp Good News® as a child, I had no idea the impact it would have on my life. I expected to just swim, ride go-karts, and do crafts for five days. Yes, there would be a Bible lesson time; this was a Bible camp after all. However, Camp Good News was unlike any other camp I had ever been a part of. In the 12 years I've been involved with the camp, as both a camper in my childhood and currently as staff, I have personally experienced and seen the magnificent impact camp ministry has on hundreds of people every summer.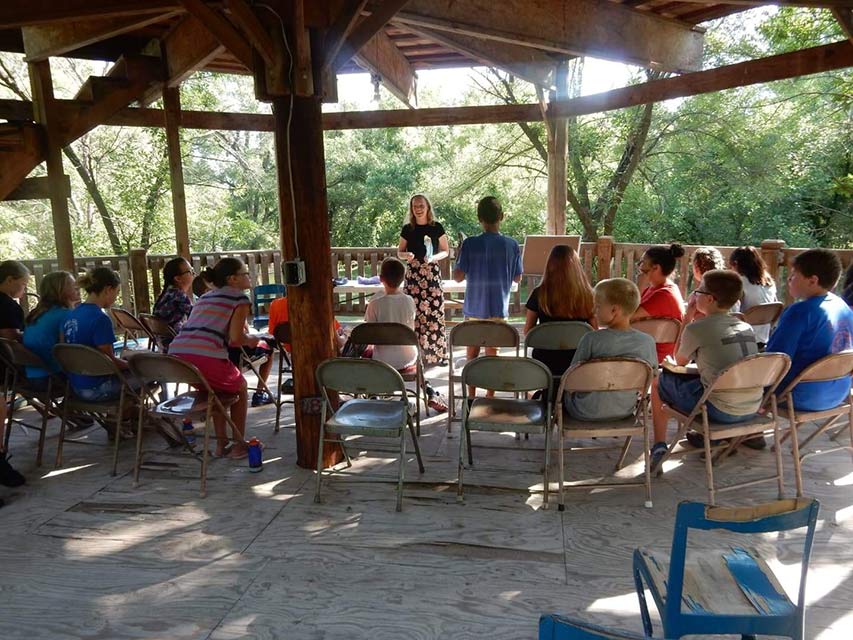 I was one of those campers who had already trusted in Jesus and who could tell you the Bible stories right off the top of her head. My dad is a pastor, and my mom volunteers with CEF®. I loved my parents' ministries and admired them so much for their involvement, but after attending Sunday school and church all of my life, I felt I already knew most of what I was being taught, and I wasn't growing. That changed when I went to camp.
My counselors taught me new things straight from Scripture and challenged me to have my own personal devotion time with God. They constantly showed the sacrificial love of Christ—from helping me put my hair in a ponytail to answering my big questions about the Bible. It was clear they were there taking care of me and my fellow campers because they loved God and wanted us to know this love. Their example and love have stuck with me.
Some of my fondest memories from camp as a camper include decorating t-shirts while brainstorming talent show ideas and our dorm room counselors singing us to sleep with hymns and camp songs. My Bible teachers taught me that even though I might already know what happens in the Bible stories, God can teach me something new when I hear them. They also taught me to appreciate and love God's Word. I also consecrated my life to Christ at Camp Good News when I was 11-years-old. Camp was instrumental in helping me grow into the person I am today.
It was the love and fun of camp that made me want to be on camp staff. I counseled for one year then became a Bible teacher at camp. I absolutely love it! Now I get to show the next generation of campers the same love that was shown to me and teach them the same things that changed my life.
This year I had an aspiring architect in my group of sixth-grade campers. When I began talking about the might of the Babylonian Empire during our study of Daniel and I mentioned the Hanging Gardens he suddenly jumped, excitedly raised his hand, and asked if he could tell us what he knew about the gardens. "So, wait, we've been talking about THAT Nebuchadnezzar?!" he asked excitedly. It was amazing to see him realize that history and the Bible coincide. Moments like these are precious to me as a teacher.
Camp ministry provides a unique opportunity to evangelize and disciple children.  Camp gets people away from their daily routine and invites people to think about their lives and their relationship with God. I have seen this play out in the lives of all our campers. I get to share the Gospel with the campers every day. Some campers as old as 14 hear a clear presentation of the Gospel for the first time in their lives at camp. I get to counsel campers to consecrate their lives to Christ.
Camp continues to challenge me in my walk with the Lord as a staff member as well. For example, camp challenges me in biblical knowledge and understanding. Campers ask a lot of tough questions and only by God's grace can we answer them. One friend of mine who's been counseling for five years told me that he is asked more tough questions about God at camp than anywhere else. His fellow counselors all agreed. You quickly realize how much you don't know when young campers start firing questions like "Why do bad things happen" to the more silly ones like "Does God make good pancakes?"
Camp also challenges me to rely on God. Did I mention my camp location doesn't have air conditioning? It doesn't (except for a few rooms), and Kansas gets hot in the summer. There are other challenges— once goats invaded Bible class! In these situations, you learn very quickly that you are not in control. God has worked in my heart to teach me to rely on Him for the routine and the unexpected.
There are many more reasons why I love camp ministry, but ultimately what brings me back each year is the joy of watching God work. God's magnificent works are glorified in every aspect of camp, from the morning flag raising to the bedtime devotions. Even in the hardships, God is glorified. Camp has had a huge impact on me as a camper and as staff, and I want as many people as possible to experience that same impact. When I see what God does in the lives of the campers, even in the short amount of time I'm with them, all my struggles and hardships are reduced to nothing. No matter what kind of obstacles Satan tries to put in our way, they pale in comparison to the way God transforms the lives of campers. In the end, His name is glorified.
Stay Connected with CEF
Subscribe to our email lists to receive updates, news, and stories based on your needs and interests.