It Wasn't Easy But…
In December 2016, a team from CEF of Pennsylvania spent 11 days in Kenya teaching 5-Day Clubs and vacation Bible schools. Angela Ye and Anne Kelly, who have served as Christian Youth In Action® volunteers in Delaware County, were a part of this team. This trip was life-changing for both. Angela and Anne describe how God impacted their lives while in Kenya.
Angela writes: "I like having control. I work, work, work, and study, study, study so I can rely on myself for success instead of on others, instead of on God. With less than two days before I would fly to Kenya, I still didn't know exactly what the team and I would be doing or what our schedule would look like. I felt terrified."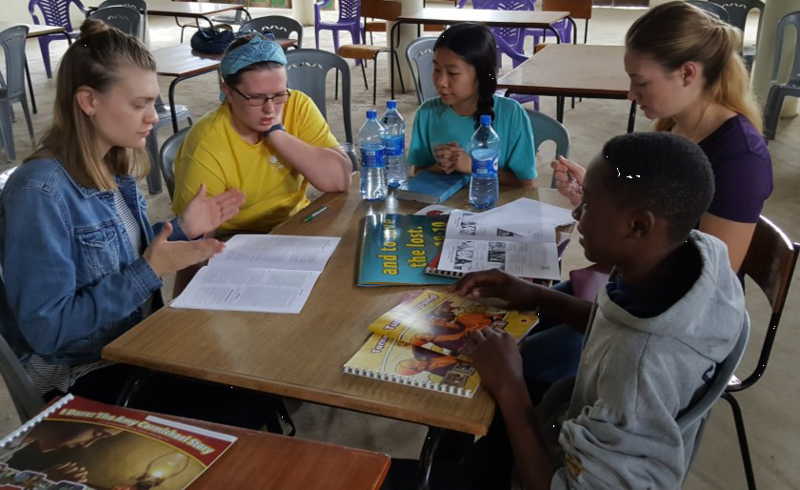 But as the trip progressed God was working in Angela. "The lessons I learned in Kenya have encouraged me to live my life differently and spend less time planning for my future and more time seeking God's will. From the children I learned to be open and accepting, and to welcome others without fear or hesitation. I will invest in others and love them in an effort to point them toward God."
Anne had a unique experience teaching at a 5-Day Club® which was all in Swahili. "I sat in a small, sweltering room packed with children. For a majority of the time I had no clue what they were saying, with the exception of the occasional Naaman coming out during the Bible lesson. I was, however, able to teach the verses in English (which the children understood). After the first day I was glad to be pushed out of my comfort zone.
"I miss being in Kenya. There is nothing I don't miss, even the rooster that woke me up at 3:00 in the morning and crowed every eight seconds. We learned about flexibility and to step up and do what is needed. The days were long, the nights were short, but it was worth it. I definitely miss the boys and girls. They brought a smile to my face and reminded me why I was there—to share the Gospel with them."
Stay Connected with CEF
Subscribe to our email lists to receive updates, news, and stories based on your needs and interests.