Where God Leads
-Eleanor George
When I was a girl…
My father was a pastor but in 1944 he became a Navy chaplain and moved our family to Grand Rapids, Michigan. When I was just six years old I was invited to a woman's house for Good News Club®. We sang songs and learned verses. She told the Passover story and as she put pictures on the flannel board, she explained how the blood put over the door post was a picture of the cross.
She applied it to my life and my need for provision from the penalty for death. When she gave the invitation, I wanted to respond, but thought I needed to ask my mother. I went home and my parents explained the way of salvation to me again. That day I received Jesus as my Savior.
A few weeks later my dad received orders to move to San Diego, California. He went ahead to prepare for us, and a short time later my mother loaded my siblings and me and all our belongings into our car and we started our journey.
While going through Colorado my mother made a wrong turn that took us up a mountain road. The walls of the mountain seemed to get steeper and the road narrower. Finally my mother decided she needed to turn around. We were all afraid as Mom tried to turn our car around on that narrow road. Then I remembered a verse I had learned in Good News Club. I said, "Mom, 'What time I am afraid, I will trust in thee.'" Our fear disappeared! My mother turned the car around and got us off that mountain.
Now I'm 78 years old and still feel the wonder of knowing God will take care of me. In that Good News Club I recognized my need to receive Jesus as my Savior and I learned verses that have stayed with me all these years. I still recall that verse—and others—when I am afraid.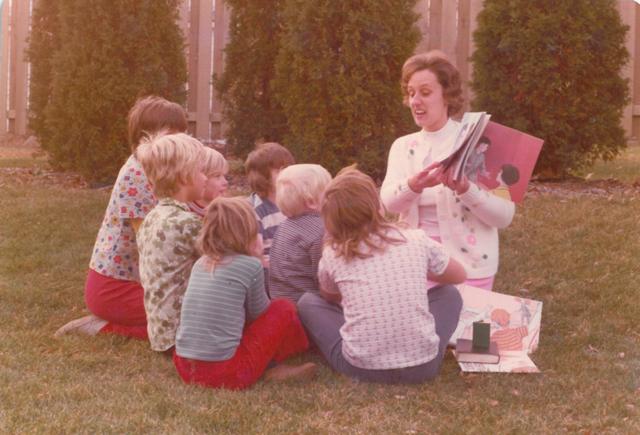 Then I met Alan…
Just before my 16th birthday I met Alan George and we soon began dating. Every summer he traveled to Pensacola, Florida to work with Child Evangelism Fellowship® as a summer missionary teaching 5-Day Clubs. We married on my 20th birthday and as soon as I graduated from nursing school, we moved to Chicago, where Alan began working with CEF.
Alan grew as a leader…
Later God led us back to Pensacola, where Alan worked with CEF of Florida and eventually became Florida's state director. As time went on, Alan served as a regional director, director of USA Ministries, vice president of Overseas Ministries, and senior vice president of USA and Overseas Outreach. From 1982-1989 Alan served as president of CEF®.
We served as missionaries in Africa…
In 1989 Alan stepped down from the presidency and was succeeded by our current president, Reese Kauffman. This enabled Alan to follow God's leading to go to Africa where we served as CEF missionaries for six years.
A heritage of missions…
Alan and I were married for 56 years when God took him Home. During that time our daughter Betsy and her husband, Tom, followed the call into ministry with CEF of New York City. Their son also works with CEF in NYC. Our daughter Rebecca is active in the CEF chapter in Saint Louis, Missouri. We are a family that loves the Lord, each other, and CEF!
Stay Connected with CEF
Subscribe to our email lists to receive updates, news, and stories based on your needs and interests.