Every Child, Every Nation, Every Day
Training for Churches
Child Evangelism Fellowship is serious about training believers to effectively evangelize and disciple children. We offer a variety of options for your church from online courses for groups or individuals to customized on-site training through local CEF chapters.
Training events include:
Teaching a Bible lesson
Counseling a child for salvation
Teaching a memory verse or song
Orderly classrooms (discipline)
More
Your local CEF director is ready with the training to help your church ministry to the children in your neighborhoods!
Last year in CEF worldwide ministries we shared the Gospel with over 25.4 million children around the world. Over 10.4 million of those children placed their faith and trust in Christ after speaking to a counselor who had been trained in how to lead a child to Christ.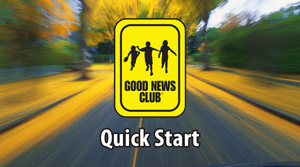 Quick Start
So you're going to start a Good News Club! Get ready to watch God work in the hearts and minds of children in your club.In preparation, CEF will help equip you through a series of quick training sessions designed with you in mind,  Good News Club Quick Start Training.