"I'm Able To Do This Because of SPAN"

Her dream was to open a Christian preschool. But when the funds ran out, that dream came crashing down.
Happy is a CEF missionary in Sihhoye, Swaziland, a rural area in the eastern part of the country. After teaching Sunday school to local children, Happy decided to open a Christian preschool so she could have even more of an impact. But because the people in the community were largely poor, Happy didn't have the funds to continue. She had to close the preschool and go look for a secular job.
Then she talked to Pastor Saint, the national director for CEF in Swaziland. He convinced her to go back to running the preschool and teaching Sunday school, trusting God to provide in the long run. And God did! Happy received assistance from CEF's Sponsor-a-National™ (SPAN™) program, enabling her to keep doing what she was doing.
Although Happy has since moved away from Sihhoye, the preschool continues to operate in that area. And Happy has started a daily Bible club at the school near her current home where she teaches the five younger grades, runs a Good News Club® on Saturday, and teaches Sunday school at a local church. Now the school is considering having her in charge of their entire Christian curriculum.
"I am able to do this because of the SPAN program," Happy said. "I know my family is taken care of, and I don't have to worry about getting myself a job."
See how CEF's materials help children learn about Jesus Christ
This #GivingTuesday, help missionaries like Happy tell children about Jesus. When you donate to our SPAN program, you're giving a gift that will change children's lives forever. You're helping to Give Them Jesus.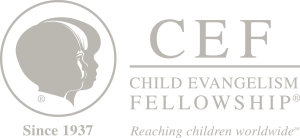 Mailing Address
Child Evangelism Fellowship Inc.
P. O. Box 348, Warrenton, MO 63383