Every Child, Every Nation, Every Day
The Partnership Plan
The plan for Good News Across America is both simple and effective. We will send a team of four or five CEF trained missionaries to help. The goal is to impact your area with the Gospel of Jesus Christ and to do so by reaching children and their families with the message of Christ's love. By faithfully praying and planning, together your church family and the CEF family can reach children and families right where they are in your community. Child Evangelism Fellowship wants to serve your church by partnering with you to bring together the six pieces of the partnership plan.
1. IDENTIFY the Target Area in Your Community
The outreach plan begins in the neighborhood right around your church and reaches to the elementary school in your area. CEF ministry managers will work with partnering churches to identify the target elementary school and the viable ministry locations nearby. CEF will provide demographic information, serve as liaison with the public school and provide the training and the tools your church team will need to launch ministry in a public elementary school. Once the target school is identified, we will work with your key contact person to identify three (3) viable ministry sites for summer outreach — parks, community centers, boys' and girls' homes, apartment complexes, etc. Your ministry manager will provide assistance including templates for flyers and ideas on how to promote and advertise the clubs.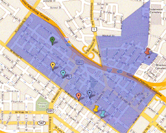 2. INVOLVE Your Church in Reaching the Community
The CEF team of trained workers will bring everything needed for the ministry but we need the help of your church people to come alongside us and help build a bridge between your church ministry and the community. The CEF team will attend your worship service and provide orientation training for all church volunteers who will serve in the 5-Day Clubs. Training will include such topics as How to Lead a Child to Christ and How to Counsel Children Effectively. Although vital to this outreach, the training is also excellent for any children's workers and Sunday school teachers. For the safety of children and the protection of your ministry and ours, CEF requires all volunteers to pass the screenings required by our Child Protection Policy. CEF will work with you to identify a group of church volunteers to serve as the team for the after-school Good News Club in your community. We will also provide training for your team in how to launch and maintain a Good News Club in your local elementary school. In addition, CEF will help you to find creative and effective ways to involve your church members in praying for the 5-Day Club and Good News Club.
3. IMPACT the Children of Your Community
During the week of ministry your church will host three outreach events, which will be conducted by the team of trained volunteers from Child Evangelism Fellowship. High octane 5–Day Clubs will last two hours and will include high energy games designed to build relationships with the children and families and underscore the teaching of the day. In addition, the children will learn action-packed songs, memory verses and a Bible lesson which will include a clear presentation of the Gospel. CEF has developed age appropriate materials that deal with the issues children face, hold their attention and impact them with the message of the Gospel. Your ministry manager will work with you to determine which outreach sites are best for you and how we can most effectively partner to reach the unchurched children of your area with the Gospel. We call it VBS "on the road." Many pastors tell us that their church VBS is very effective in reaching the children of the church, but that it does not effectively reach the unchurched.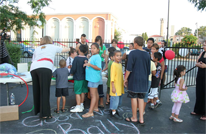 4. INVITE the Families of Your Community
All week long at each of the clubs we will promote the Friday night rally, which will be held at your church or the place your church chooses. We will have a power-packed program for the children and their parents which will highlight the things the children have learned and provide the opportunity for your church family to continue building relationships with the families living around your church. CEF clubs reach many unchurched children and provide an excellent means of reaching unchurched families. The rally will include all the games of the week, face painting, prizes and refreshments provided by your church. Your ministry manager will work with you to help promote the rally and to tailor a budget that fits your church for the rally and refreshments. You will want to invite many of your church people to the rally to help build bridges to the families in your community.
5. INITIATE a Good News Club in Your Community
Partnering churches agree to launch a Good News Club in a public elementary school in their community. The club meets after school one day each week and continues to impact the children and the families where they are in your community. There are three essential components: training, tools and team. CEF will provide Good News Club training for your volunteers as well as ongoing training and support. The tools for the first six weeks of clubs will be provided to you at no charge; materials for subsequent weeks are available for approximately $350 per year. The team of volunteers is provided by your local church and is open to screened teens, adults and seniors who love children and want to see them come to Christ.
6. INCREASE Your Impact in the Community
The result of partnering together will be increased impact on your community. Churches which have partnered with us have testified of being able to reach families through this simple and effective approach to ministry. In Chicago, Little Rock, Boston, Salt Lake City, the Twin Cities, Denver, Portland, Indianapolis, and Milwaukee thousands of children heard the Gospel and many of them placed their faith in Christ for salvation. Previously unreached children and families began attending church regularly. Many schools now have an ongoing evangelism and discipleship program. God's blessing was on this ministry and we expect His blessing on future events. No doubt you desire to impact your community for Christ. CEF wants to come alongside you to help in that endeavor. We want to help you evangelize, disciple and establish families in your local church. We trust you will choose to partner with us and we look forward to serving Christ with you.
Partnership: How the Pieces Fit Together
A successful partnership is always rooted in a clear understanding of each partner's responsibility. Your ministry manager will work with you on each of the following responsibilities:
Child Evangelism Fellowship Responsibilities
Provide teams of trained missionaries to conduct clubs in your community.
Provide training for members of your church to prepare them for 5-Day Club ministry.
Help you launch a Good News Club in a school near your church.
Provide training for church volunteers to conduct the Good News Club in a public elementary school.
Provide the materials you need to launch and sustain your Good News Club for six weeks.
Provide ongoing training, support and materials (available to purchase) for your Good News Club.
Invite children and their families to your church for a Friday night rally.
Your Local Church Responsibilites
Provide a key contact from your church to work with your ministry manager to plan the outreach.
Identify the target area for your church and three ministry sites for reaching the children.
Promote and pray for the ministry.
Recruit church members to assist CEF teams with 5-Day Clubs.
Agree to launch an after-school Good News Club in a public elementary school in your community.
Recruit a team of at least five people to serve in the Good News Club outreach.
Invite the people of your church to the Friday night rally and provide the meal for that rally.