The Greatest Thought to Ever Enter Your Mind | Today's Hot Scripture
How should I view God? How much control does God have over my life? If you've ever asked these questions, then you don't want to miss this episode of Today's Hot Scripture.
Stay Connected with CEF
Subscribe to our email lists to receive updates, news, and stories based on your needs and interests.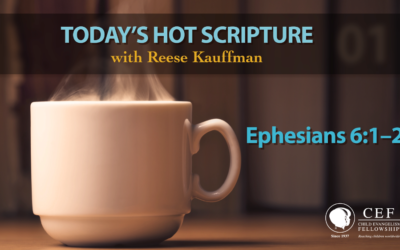 What does the Bible instruct children to do in regards to their parents? Reese shares from Ephesians 6:1-2 where God gives special instructions to children. Listen to what these verse taught Reese in this episode of Today's Hot Scripture.
Highlighted Verses:
"Children, obey your parents in the Lord, for this is right. "Honor your father and mother" (this is the first commandment with a promise)" Ephesians 6:1-2 ESV
Reach A Child, Make An Impact
We've been assigned a great work and we could do so much more if we had one more person – just one more – helping us reach Every Child, Every Nation, Every Day. That person is you!