Leadership Training Series
Courses must be facilitated or taught by leadership from the next higher office (state director or district director). All materials must be ordered by a state director or a district director. For additional information or help, email usa@cefonline.com.
COURSE ORDER  Courses should be taken in the following order.

Ministry Builders Guidebook
Blueprint*
Use Blueprint Toolkit
Setting the Course*
Connection*
Core6*
RoundTable (if needed)
All board/committee members and directors should receive training regardless of prior experience.
Courses must be facilitated and taught by USA ministry leaders, district directors or state directors.
Most courses (*) may be taken online when facilitated by a state director or district director.
Toolkit may be used independently.
MINISTRY BUILDERS GUIDEBOOK
Practical Guide to God's Principles −  Suggested reading before ALL courses
Are you operating with God's principles and using all the tools available for staff and board/committee members to succeed in God's work? This guidebook points out various biblical principles which are profitable for ANY state or local chapter. It is particularly useful for developing new ministry areas or redeveloping tired ministry areas. This valuable resource is available for all staff, board/committee members.   9-90117-961-0   $8.80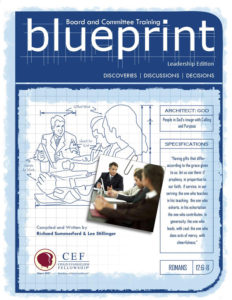 BLUEPRINT
Reorganizing Transitional Course − For use by all existing chapters
With the advent of reorganizing the ministry for practical and legal needs, every board/committee needs to understand the type of leadership they are currently providing while having the vision to possess the qualities required  for sustainability in the future.
9-90117-955-6 $5.00
9-90117-954-8 Facilitator's Guide $20.00 (for state and district directors)
DVD—coming soon
Blue Print Toolkit
Practical Tools to Gain New Members −  For use of all members
Having an adequate number of board or committee members is essential for effective leadership. This will guide members to understand who they currently have and who they need.  Plus tools to gain new members.  9-90117-956-4 $3.00
Setting the Course
Victorious Ministry through Strong Board Leadership −  For use after Blue Print
This is a practical guide for victorious ministry through strong board leadership. Study biblical principles while examining the example of our founding leadership through this course that outlines who we are, what we do, and where we are going.
9-90117-962-9 Student Manual  $5.00
DVD—coming soon
Connection
Board/Committee and Director's Relationship Course 

Staff are a part of the leadership team and need to have an understanding of how they work in concert with the leadership of the board/committee. This course builds greater relationship skills between the board/committee and director before extending into the whole of the ministry.
9-90117-953-X Student Manual $5.00
9-90117-952-1 Facilitator's Guide $20.00 (for state and district directors)
DVD—coming soon
Core6
New Members Course 

New members have an advantage as never before. These six sessions will provide an overview of God's purpose for this ministry, its heritage, programs and organization. It continues with member's responsibilities and goals, providing practical helps to become accomplished with their duties.
9-90117-959-9 Student Manual  $5.00
9-90117-958-0 Facilitator's Guide $20.00 (for state and district directors)
8-90117-419-7 Core 6 DVD set $27.50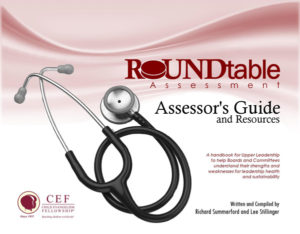 ROUNDtable
Leadership Assessment − For use 6 -12 months after Blueprint
Without gaining a checkup to assess how well a board/committee is providing leadership, chances are things will fall through the cracks. This assessment gives an honest look at functionality and effectiveness of the leadership team with opportunity to strengthen areas needing help.
9-90117-960-2 ROUNDtable Assessor's Guide $20.00
9-90117-957-2 ROUNDtable Assessment $3.00