They sell their children to voodoo . . .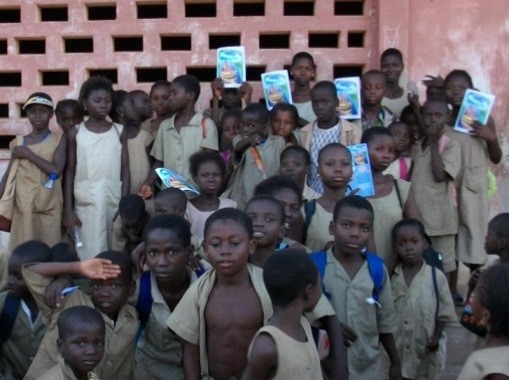 Unfortunately, the above statement is all too true in Benin, a small country in West Africa tucked between Nigeria and Togo. In this culture where more than half the population earns less than $1 a day, families have very little resources. So when a religion that many people follow requires them to undergo expensive rituals, parents feel they have little recourse. For a sum as little as $8, they sell their children to voodoo convents, condemning them to a life of darkness.
Espides, a CEF missionary in Benin, is striving to bring the light of Jesus Christ to an area that's considered the cradle of voodoo. In September 2016, she started a children's ministry. Within a year, more than 400 children had heard the Good News of the Gospel through ten different Good News Club® ministries.
One boy who attends is beaten by his father every time he returns home from a Good News Club—yet he still comes to learn about the God who loves him.
Although the volunteer teachers and children in the clubs have undergone spiritual attacks and persecution for their faith, the ministry continues to expand. One boy who attends is beaten by his father every time he returns home from a Good News Club—yet he still comes to learn about the God who loves him.
Benin is one of the poorest countries in the world, with more than 30 percent of people living in poverty. Three in five children under the age of five suffer from chronic malnutrition, and children are severely affected by diseases such as malaria, AIDS, respiratory illness, and diarrhea, which are sometimes fatal.
More than 45 percent of children are forced to work to provide for their families. Children in rural areas are often sent to live with distant family members in the city and are promised access to schools and a good education. However, in some cases they are exploited, abused, and forced to work in horrible conditions.
Although infanticide is rare, it still happens in certain areas of the country. If a child is born with deformities, if a mother dies in childbirth, or even if a baby is born breach, the child is considered evil and given to an executioner.
The CEF ministry in Benin holds Good News Clubs every month in people's backyards, as well as programs in 114 local schools. In addition to providing regular training for new teachers, they air radio programs—one in north Benin and one in the southern part of the country—for 30 minutes each month.
Thanks to friends of CEF, the children of Benin are learning that they are more valuable than as a tool for voodoo—they have a heavenly Father who loves them with an unconditional love and who gave His Son that they might have hope for this life and the next.
Prayer Request
The primary school teachers of primary schools, employers of hospitals strike since a month.
Pray that the Lord guides us for buying Land for the CEF Benin Headquarters.
Protection by traveling next week for 4 instructors, and the training course.
| | |
| --- | --- |
| Country Population: | 9,211,741 |
| Christian Population: | 3,674,563 |
| Languages: | French (official), Fon and Yoruba, several tribal languages |
| Life expectancy: |  62.3 years |
| Literacy: | 38.4% |
Religions:
Muslim: 27.7%
Catholic: 25.5%
Protestant: 23%
Vodoun: 11.6%
Other: 12.2%
2017 Outreach
Number of Good News Clubs® Established
Children Presented with the Gospel
Help Children in Benin and other countries hear the Gospel
Children in countries all around the world are responding to the Gospel just like the children in Benin. Together with your help, we can see hearts and lives changed for eternity in nearly every country of the world. Give today and help children hear about the love of Jesus.