Every Child, Every Nation, Every Day
Donation Frequently Asked Questions
Q: Is Child Evangelism Fellowship® a member of the Evangelical Council for Financial Accountability?
A:
Yes, CEF® was blessed to be one of the charter members of the ECFA, and we continue as members in good standing today.
Q: Is CEF certified by other giving oversight organizations?
A:
Yes, CEF has a four-star rating with Excellence in Giving.
Q: Does CEF assess an administrative fee?
A:
Unless otherwise noted, CEF does assess an administrative fee of 12% which allows us to provide care and support for our workers. It also helps with the required accounting, data and software systems needed to operate the ministry as good stewards.
Q: What happens to my gift if a project is overfunded?
A:
CEF pledges to use all gifts as designated if possible. When a project is overfunded, excess funds will be applied to a similar project to get the Gospel to the next generation.
Q: Where can I direct my questions?
A Sacred Trust
From the time Child Evangelism Fellowship was founded in 1937, our financial policy has been Ask God and tell His people. We recognize that God is the source of all the resources we have and all the resources we need. We are very thankful to God for the thousands of friends of CEF who give generously to make this ministry possible. We recognize that we are stewards of a sacred trust. Therefore, we are committed to accountability and transparency in all of our finances. Each year the ministry undergoes an independent financial audit. The most recent audited financial statements, along with our most recent Form 990 federal tax return, can be found below.
CEF International Board of Trustees
Download a list of the International Board Of Trustees.
Donor Privacy Policy
Thank you for your interest in the financial support of Child Evangelism Fellowship Inc. We thank God for your part in this outreach ministry to boys and girls with the Gospel.
We view your support of CEF as a sacred trust, for we know that we are accountable to you and to God for exercising good stewardship of the funds you have entrusted to us.
If at any time you have a question or concern about a donation or your privacy of information, please contact Deana York, Mail Processing Supervisor at 636-456-4321 ext. 1271.  She or a member of her staff will be happy to assist you.
Download our Donor Privacy Policy.
Financials
Download our Audited Financial Statement
Download our 2021 IRS Form 990
Download our 2020 IRS Form 990
Download our 2019 IRS Form 990
Download our 2018 IRS Form 990
Download our 2017 IRS Form 990
It is our desire to be wise stewards of each gift given to support CEF.  Your contributions make a difference in allowing us to share the Gospel with over 16.4 million children a year. The following illustrates how our resources are allocated in a typical year.  Note that the costs reflected in this graph do not include support received directly by a CEF chapter in the USA or in a national CEF office around the world.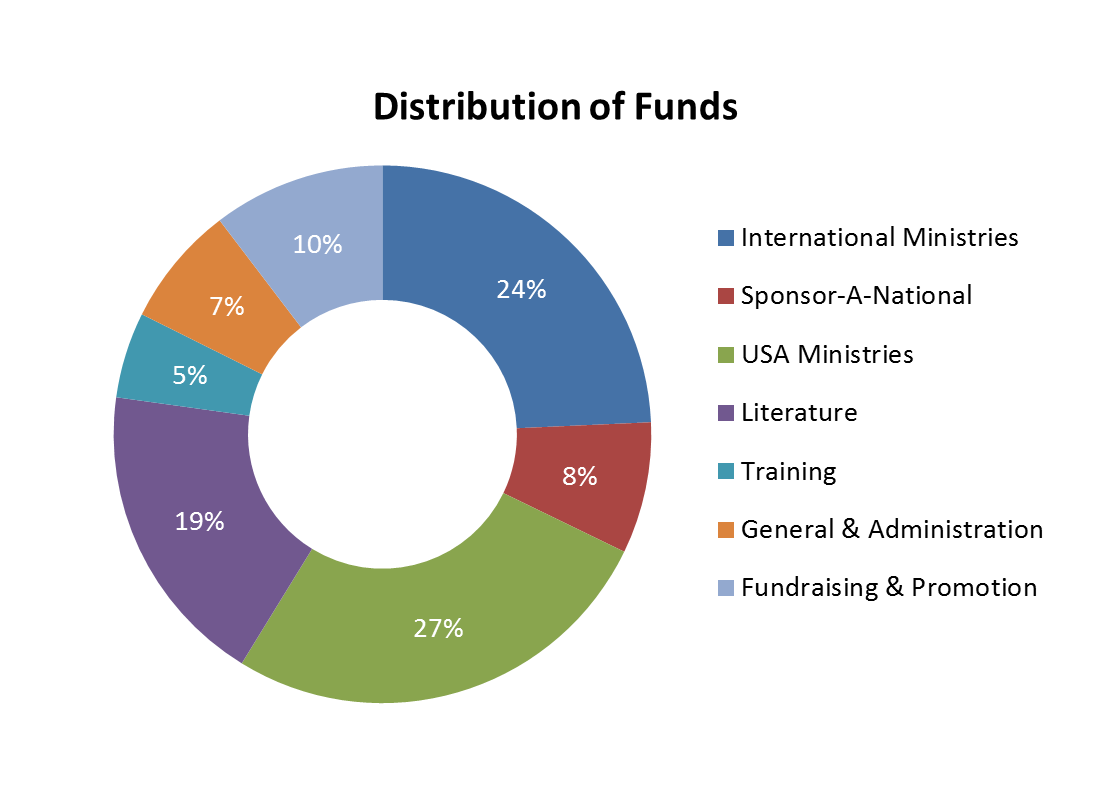 Independent Reviews
Our online donation system uses industry standard SSL encryption technology. SSL encrypts your data, including your credit card information, so that it cannot be read while being transferred over the Internet.
PLEASE NOTE: If your intention is to direct your gift to a particular worker of a local CEF chapter in the USA please use our Chapter Finder to locate the contact information for the local chapter you wish to contribute towards and send your donation there.  Electronic donations may be given through this website to be passed on to the chapter.  Because of the cost associated with such transactions, a small processing fee of 5% is assessed for such electronic donations made to local USA chapters.