He thought he would follow tradition and become a sailor. But God had something different in mind.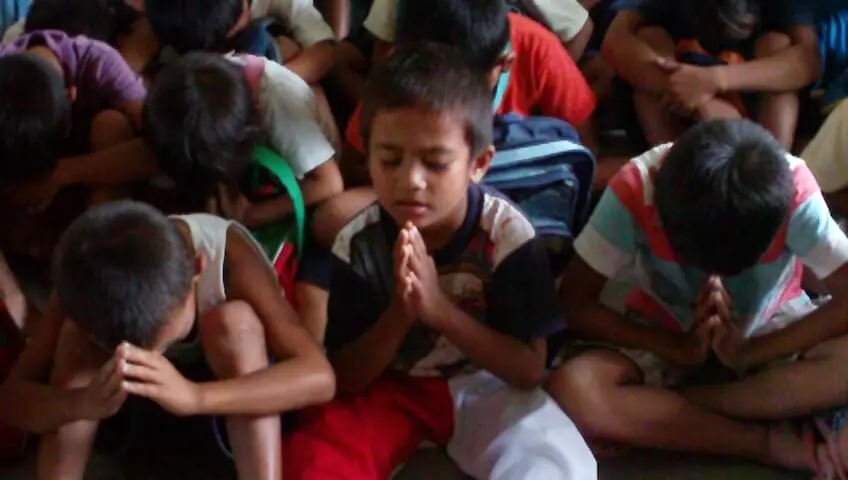 In the Philippines, where Ferdinand Tobias lives, it's common for men is to work onboard ships as sailors. And for the longest time, that's where Ferdinand thought he would end up, too.
But Ferdinand's passion wasn't for the sea. He wasn't sure what God's plan was for his life, but he wanted to be equipped to do whatever it may be. So Ferdinand enrolled in Bible college. While there, he developed a love for children's ministry, even becoming involved in his local church sharing the Gospel with children and discipling them in God's Word.
However, because he didn't have any training in working with children, Ferdinand usually ended up just playing with them. He longed to understand children better and prayed that God would teach him more effective ways of ministry.
During Ferdinand's junior year of college, it seemed that God had answered his prayer. Some CEF missionaries visited his Bible college to teach a Teaching Children Effectively™ Level 1 training course.
However, Ferdinand was soon disappointed when he found out that only the senior class was allowed to attend. He prayed that the teachers would return during his senior year so he could take the class—and God answered with a yes! When the missionaries came back the following year, Ferdinand was able to take the class and receive the training he desired and needed.
When the missionaries came back the following year, Ferdinand was able to take the class and receive the training he desired and needed.
After his Bible college training, Ferdinand became a full-time pastor. Later God opened the door for him to join CEF of Philippines as a full-time missionary. He worked at the national office for nine years, and during this time met another CEF missionary who became his wife. They now serve CEF together, offering training classes to equip others to reach children.
Ferdinand says about his ministry, "Indeed prayer is the foundation for everything, and God has a reason to use us all for the purpose of mission, children, and for His glory!"
We're so thankful for friends like you, who make it possible for CEF to provide needed training for workers to share the Gospel and have an impact on the lives of countless children in the Philippines.
Even though the economy in the Philippines is growing, 36.8 percent of the population still lives in poverty, with 47.5 percent living on less than $2 per day. At least four out of ten Filipino children live in poverty, which has pushed many children to work to fend for their families. Close to a million young people work as garbage scavengers in public dumps.
The infant mortality rate is particularly high in the Philippines, and more than one out of every five newborn children has dietary deficiencies from the moment of birth. Childbirth is risky both for the infant and the mother. An estimated 11 women die every day from complications of childbirth.
As a result of continual armed conflict within the country, 30,000–50,000 children in the Philippines are displaced every year. The Philippines is also among 20 countries in the world where children are often deployed as soldiers.
In spite of the tense political situation, CEF has the opportunity to share the Gospel with children in schools all over the Philippines. Through outreaches like the Elementary School Evangelistic Campaign and Good News Club in Every Barangay (the smallest political unit in the Philippines), CEF is making a difference in the lives of thousands of children every day.
Prayer Request
Please pray for the on-going CMI at the National Office CEF Center.
Please pray also for our school ministries (evangelism and discipleship) as the school year 2018 has begun.
Pray for favors and positive response from school authorities to allow CEF to conduct Elementary School Evangelistic Campaign and values classes.
| | |
| --- | --- |
| Country Population: | 104,256,076 |
| Christian Population: | 86,361,547 |
| Languages: | Filipino (official; based on Tagalog) and English (official); eight major dialects – Tagalog, Cebuano, Ilocano, Hiligaynon or Ilonggo, Bicol, Waray, Pampango, and Pangasinan |
| Life expectancy: | 69.4 years |
| Literacy: | 96.3% |
Religions:
Catholic 82.9%
Muslim 5%
Protestant 9.6%
Other 2.5%
2017 Outreach
Number of Good News Clubs® Established
Children Presented with the Gospel
Help Children in Philippines and other countries hear the Gospel
Children in countries all around the world are responding to the Gospel just like the children in Philippines. Together with your help, we can see hearts and lives changed for eternity in nearly every country of the world. Give today and help children hear about the love of Jesus.