CEF Ministry to Caravan Migrants in Mexico 
By Lydia Kaiser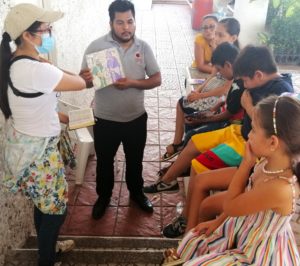 As the number of migrant caravans traveling through Mexico to the U.S. reaches double digits, CEF workers in Mexico have mobilized to reach this mission field walking through their country.
CEF National Director of Mexico, Enrique Serralta and his wife, Mayté, are strategizing for outreach to somewhat travel with caravans by activating CEF workers along the route and at both the southern and northern borders. The name of the project is Por el Niño Migrante y de la Frontera (For the Migrant and Border Child).
The pilot project started in the Mexican state of Chiapas, bordering Guatemala. Eight years ago in Chiapas, Enrique and Mayté did an extensive training with local churches with the goal of reaching out to local homes. Now those trained workers are focused on reaching the migrant children.
By day, churches take food to people and invite them to listen to presentations using the booklet, Do You Wonder Why? This Gospel-centered trauma healing booklet addresses the hard questions of why bad things happen in the world. It helps people identify their fear and questions about life, explains how sin came into the world, and the only remedy by trusting in Jesus Christ as Savior.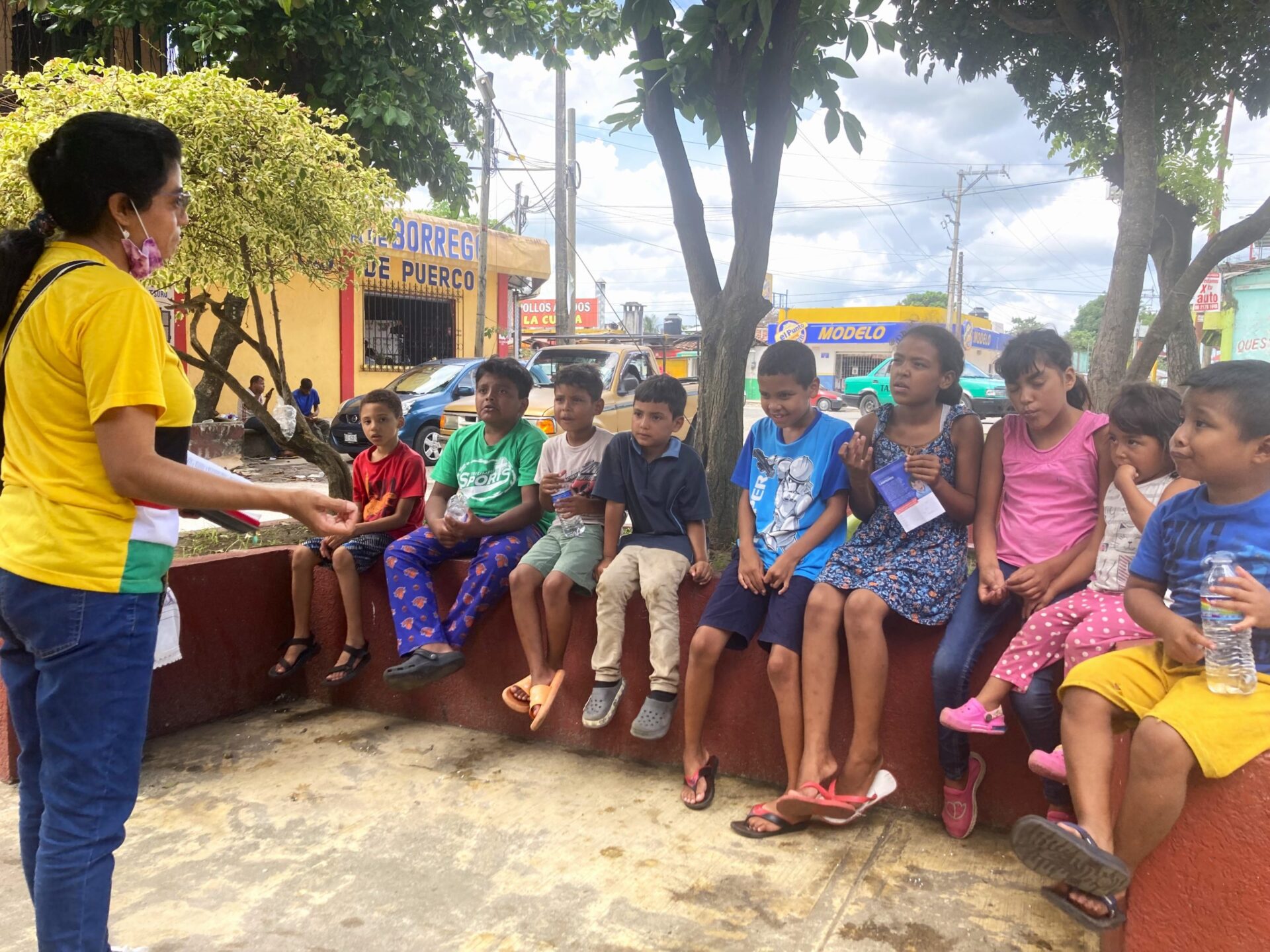 When people listen to the Do You Wonder Why? presentation, children are invited to come at specific times to the town plaza for a CEF Good News Club which is a longer program. There, they are divided into smaller groups for better ministry.
Ten year old Sebastian, from the town of Chiapas, listened in on the gospel presentation to a group of around 30 migrant children. He responded to the invitation and waited 20 minutes to speak to Rogelio, an older CEF worker (pictured). After he was counseled and he prayed to accept Jesus as his Lord and Savior, he told Rogelio that he wanted to help evangelize the migrant children coming through his town. He could see that Jesus is the answer to the hopelessness of these people.
Enrique and Mayté have been personally affected as they minister directly to the migrants. The workers take water, bandages and socks to clean the feet of children who have suffered greatly on the long journey. They hear stories of the journey through forests or mountains including violent assaults of every kind, countless stories of children dying and women who cannot save the lives of their own children because of being attacked themselves. Besides assault, lives are lost due to sickness, being swept away in rivers, malnutrition and dehydration.
The migrants are from many countries including Haiti, Honduras, Columbia, Peru, Venezuela, the Congo, Angola, Brazil. Language barriers add to the chaos. For the most part, people who speak particular languages group together and respect the space of other groups. Enrique and Mayté took some of the CEF training in Brazil so were able to pick up Portuguese.
As the pilot program found success in the south, Enrique desired to see these same people followed up in the north. So, he began a trip visiting the CEF workers and pastors along the entire northern border of Mexico. This is a very difficult trip. He requests prayers and church contacts as he is battling fatigue and illness.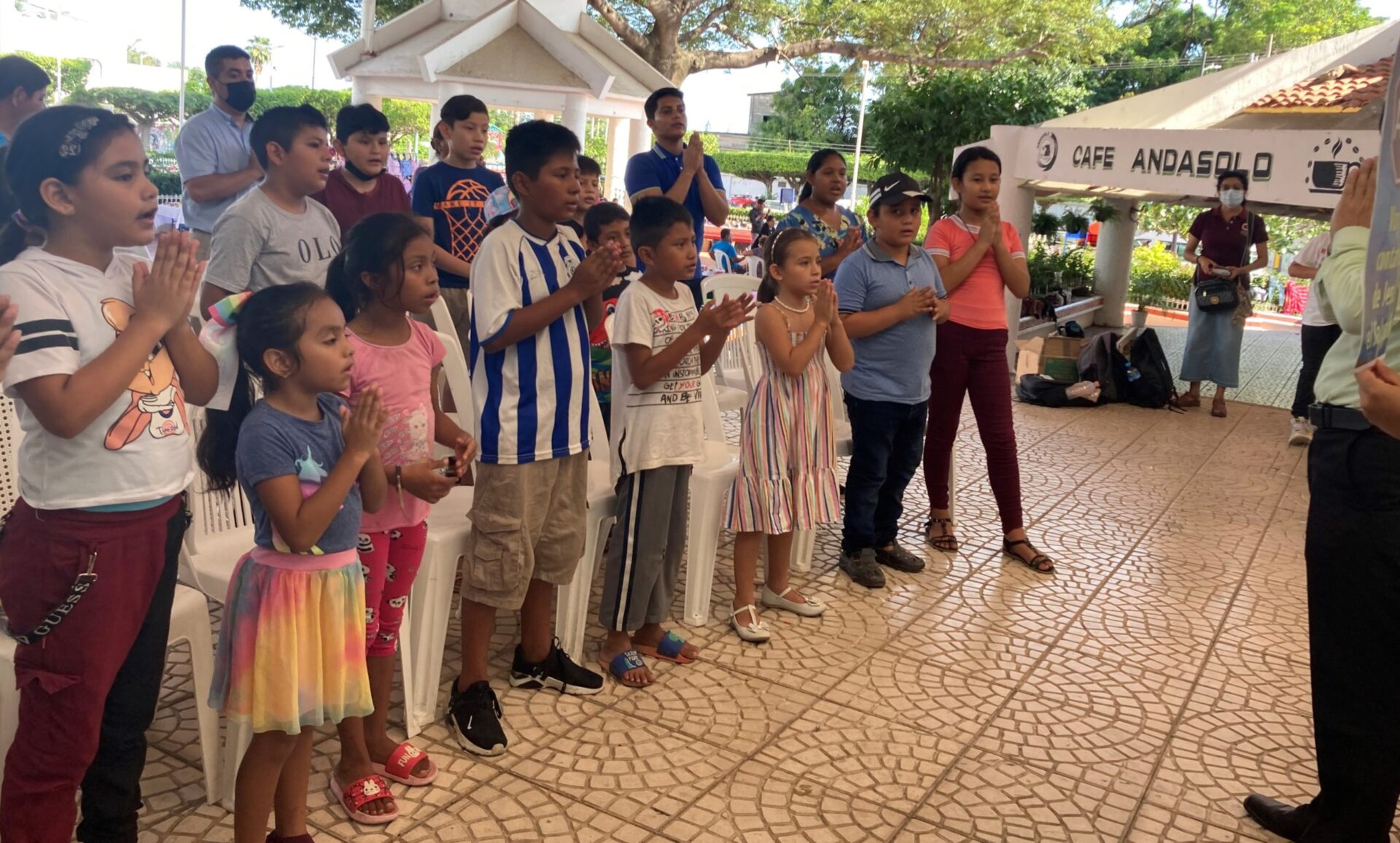 Enrique noticed that many migrants congregate around bus stations where they get off and on busses, so this is where workers needed to set up Gospel stations. Parks, plazas and athletic stadiums are additional gathering places.
Eleven-year old Anthony was a migrant child sitting with mother and siblings while they passed by one evening, and Mayté gave him gospel, using the Wordless Book. As she described Heaven, the boy's eyes sparkled and he asked if Heaven is like the US.  She told him "better, it is perfect."  When she explained sin, and asked him for examples, he told of terrible things he had seen on their journey. After he prayed to receive Jesus as his Savior, she explained growth and Hebrews 13:5. Obvious faith welled up in the boy as he closed his hands, raised them in triumph and exclaimed, "Yes! He will never leave me!"
Please pray for many more Believers to join the effort to bring these desperate people to the joy of knowing that they can enter God's family and He will never leave them.