Faith Steps for Siblings in Conflict
—Pat Verbal
A Sunday school teacher received this prayer request: "I share a room with my sister, Little Miss Innocent, who always gets me in trouble. Pray I don't kill her!" Sibling rivalry is as old as Cain and Abel and abounds in every culture. How can we as teachers and parents help children walk by faith at home?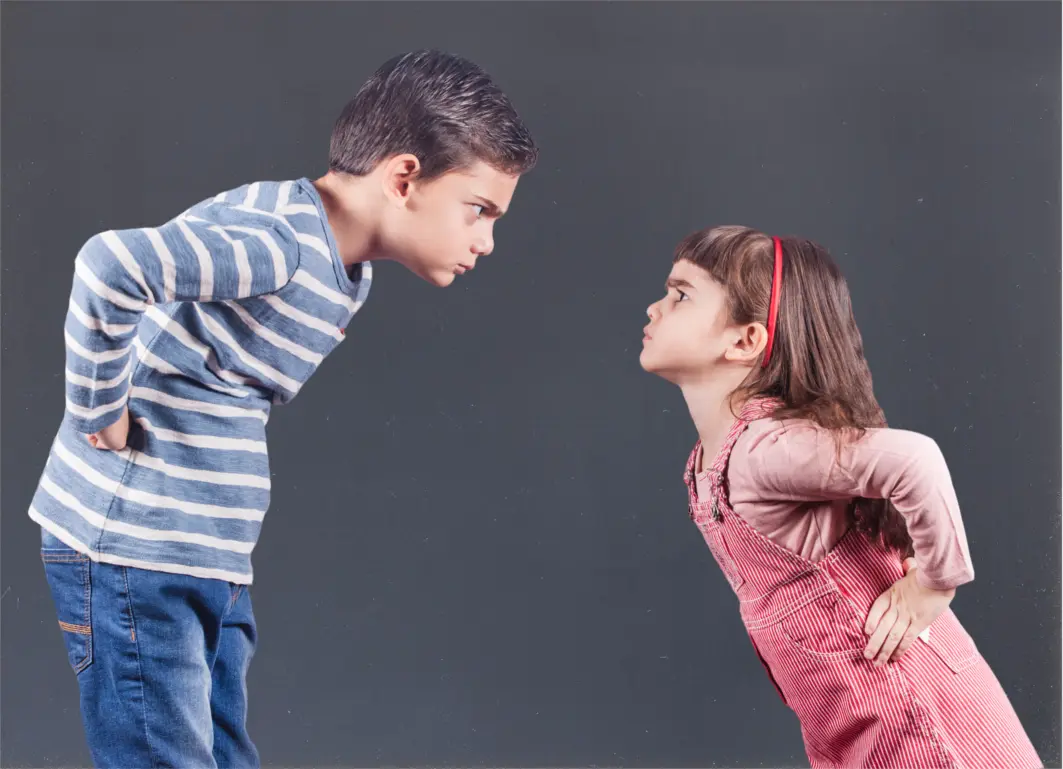 Faith Step #1-Pinpoint the Problem
Fighting is not a sign of children not getting along. It's a part of how they get along—using conflict to establish their identities, test their powers and air their emotions with a family adversary. Kids need to know that some conflict is healthy but there are limits. Here is a checklist you can use to help children talk about their feelings: I usually argue with my brothers and sisters when. . . .
I'm tired, hungry or bored.
I'm jealous of something they got that I didn't.
I lose a game because they didn't play fair.
I don't get as much attention as they do. I get teased or yelled at.
Note that all these statements begin with "I." This prevents children from shifting the blame onto others. It encourages them to take responsibility for their actions and to seek God's guidance. The Bible says, "A gentle answer turns away wrath, but a harsh word stirs up anger" (Prov. 15:1). Children also need to see that Satan uses the "jealousy monster" to point out what they don't have or who they aren't. He says, "You're not as talented as your brother. You're not as pretty as your sister." But God gives children the power to focus on what they do have and who they are. He whispers, "You're unique, with special gifts I gave you so you can serve Me."
Faith Step #2-Value Others
Recent reports indicate that blended families outnumber traditional families in the U.S. and the number is likely to grow based on current divorce statistics. Changes in families can be upsetting and can escalate sibling conflict. Help children to know no matter what kind of family they belong to, God can work things out for good (Rom. 8:28). Children may get the false idea there is only so much love to go around and they will miss out. Joseph's brothers probably felt that way, prompting them to sell him into slavery. His story shows how love grows when we value our families in difficult times (Gen. 37–45).
Faith Step #3-Live in Harmony
What does it mean for brothers and sisters to live in harmony, as it says in Romans 12:16? It involves learning to cope, listening to another's perspective, controlling anger and asking for forgiveness. A good verse to memorize is Ephesians 4:32. Challenge children to talk to their siblings about creating family ground rules. Here are some suggestions:
Seek a compromise when we disagree.
Make a schedule for using the TV, computer and games.
No name-calling, no yelling, no door slamming.
Find my own space and time to do what I like.
Show respect, kindness and appreciation. Students in a classroom can often act like siblings, making church a good place to practice these principles.
You have the opportunity to share God's plan for healthy relationships and to help children enjoy their brothers and sisters.
Learn More about 5-Day Clubs
Find out what a 5-Day Club is and how you can get involved.