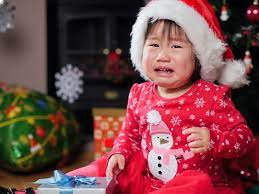 Christmas Crankiness
by Becky Dwinell
Do the kids in your life seem extra cranky? Do the students in your Sunday school class seem extra hyper? Do you feel like if you hear one more "can I get this, pleeeeeeease" you might just pull your hair out? If so, it must be the Christmas season! It seems like everyone loves Christmas but sometimes kids can be a whole different level of ornery at this time of year. What is going on? There are a number of things that can lead to Christmas crankiness in kids. Let's think about one common cause for crankiness and how to help kids work through it in a way that honors God.
One big factor in Christmas Crankiness is stress. Many kids go from a structured schedule at school to being with relatives and friends, participating in concerts, and attending Christmas parties and church events. Some kids are having to spend more time in unhealthy family environments which can cause them to feel family stress more deeply. With so many sudden changes, it's natural for kids to feel stressed out. As the Christmas season ends, they may encounter another stress-producer: school. The thought of going back to school—where difficult tests, bullies, peer pressure, and a host of other problems await them—could make some kids sick to their stomachs.
Here are three things we can do to help kids during a time of stress:
First, take time to de-stress yourself. Remember, when you are stressed, kids will sense it and may take on that stress themselves. Maybe a jog on the track or watching your favorite movie with a good friend will help you relax. Maybe there's a hobby you've been wanting to get back to, or a Bible passage that refreshes you. Whatever you do to destress, make sure to intentionally put aside some time to rest this Christmas season. It's also wise to limit how many outside activities you add to your schedule.
Second, talk with kids about stress and how you work through it. You might say, "you know, I get stressed too, like when we were running late for the Christmas Party last night. But when I am stressed, I try to remember to ask God to help me have patience and help me remember that my relationships with my family are more important than complaining about being late." Learn to view your stressful moments as opportunities to model Christ-likeness. This will not only help the kids in your life see how they can handle stress well, but it will also help you guard your own actions and attitudes in the midst of stressful situations. When technology is not cooperating at Sunday school or you are running late again because of a kid's missing shoe, stop there and pray a prayer of thanksgiving to God out loud.
Third, to help kids de-stress, ask them what makes them feel stressed or what things they are worried about. If they are showing signs of stress, you might want to ask a few calming questions like, "What are you wanting right now that has you upset?" Sit down and give them your full attention, at eye-level, speaking calmly and gently. This helps them relax, knowing there is time to express themselves. Letting them talk about their feelings is a great stress-reliever. I know that talking things out helps me.
Some kids may have a harder time explaining how they feel, but as you take time to listen to them, they will start to feel comfortable opening up. When you do this, you are showing them the gentleness and compassion of Jesus. If you do have to correct, empathize first. Just this act of service could give them some stability in their crazy Christmas world. After they have shared their feelings, point them back to Christ. Ask them, "What is Christmas about?" then help them think about how Jesus gave up having the privileges of Heaven, so our gratitude for His sacrifice can help us lower our expectations and thus our stress level.
When you see cranky kids in your home, Sunday school, Good News Club or extended family this Christmas season, remember that they might be feeling some of the same stress you are. You could be instrumental in helping yourself AND them process emotions in a God-honoring way, and remember the purpose for Christmas.
See resources for teaching kids around Christmas at CEFPress.com.
Stay Connected with CEF
Subscribe to our email lists to receive updates, news, and stories based on your needs and interests.