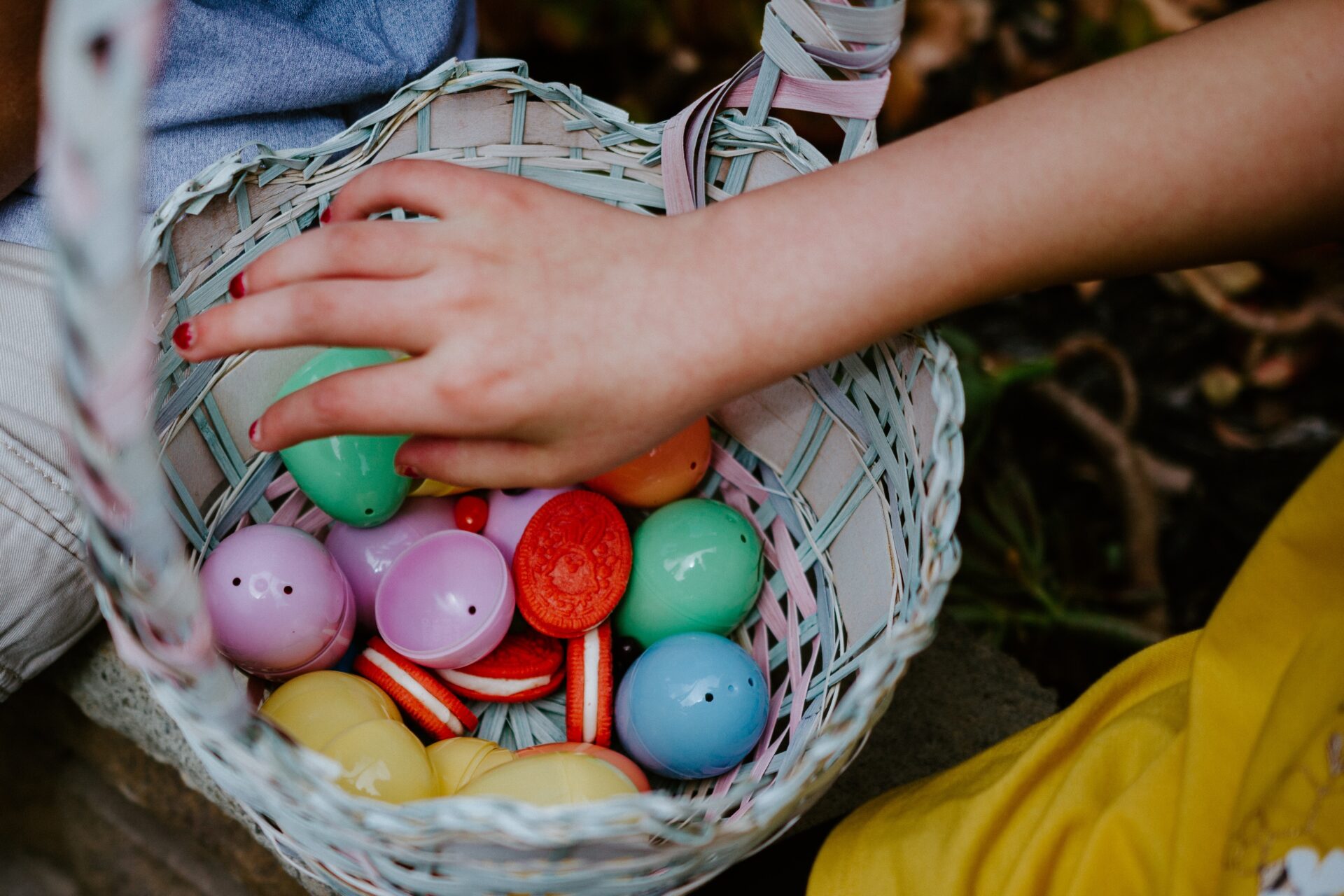 The 3 Best Easter Gifts God Gave Us (And How to Share Them with Your Kids)
by Deb Hane
When people think about giving gifts for a holiday, most think of Christmas. But what about Easter? Christmas may be the time we exchange gifts and even consider God giving the gift of His Son, Jesus, but there is more to Easter than egg hunts and small gifts of candy. In fact, the best gifts ever given to each of us came as a result of those critical events surrounding the Easter celebration.
Want to help children celebrate the true meaning of Easter this year? Here are 3 of the best Easter gifts God gave us and how to share them with your kids.
1. The Easter Gift of Humility
The Thursday before Easter, also known as Maundy Thursday, is when Jesus celebrated Passover with His disciples and instituted the Lord's Supper. It's when Jesus washed the disciples' feet (John 13) — the job only a servant would do. Later, in Gethsemane, He fervently prayed to the Father, "Not my will, but yours be done." Jesus modeled humility through His life and death, and it's what we need to practice ourselves to come before God. This is why the first, best Easter gift God gave us is the gift of humility.
How to Help Kids Learn About the Easter Gift of Humility
While humility usually doesn't sound very appealing to children and, truthfully, most adults, without it we'd be in big trouble. Philippians 2:3-8 describes how we should humble ourselves like Jesus, who lowered Himself and became a man, lived as a servant, and willingly died on a cross. As you approach Easter, take time to read about these events starting in Matthew 26, Mark 14, and Luke 22 and discuss them with the kids in your life.
One way to do this is with Resurrection eggs where each plastic egg contains a symbol that represents a part of Jesus' story, serving as a visual aid for the gospel message. To learn more, buy a carton for your family, or even learn how to make your own Resurrection eggs at home, search "resurrection eggs" online.
Another way you can help kids learn the Easter gift of humility is by planning a service project with them. This can look like volunteering as a family to make decorations and set up an Easter morning breakfast for your church, or make cookies and deliver them to senior centers or older members of your church who live alone. Service projects like this help kids to consider others and not just think about themselves, while kids can find a great joy in serving others that will stick with them into adulthood.
2. The Easter Gift of Forgiveness
Good Friday services are often a somber remembrance of Jesus' death on the cross. But the great sacrifice of Jesus, although serious, also provides reason for great rejoicing. Which is why the second best Easter gift God gave us, is the gift of forgiveness.
Do you want to carry the weight of your mistakes and wrongdoings with you every day of your life? Of course not! Forgiveness sets you free from all guilt and shame, and even restores relationships. Forgiveness is a precious gift and one God offers to us freely. Nothing compares to the forgiveness made available to us through Jesus. We were all born separated from God, wanting to go our own way, but Jesus came to change that and did for all humanity around Easter time.
How to Help Kids Learn About the Easter Gift of Forgiveness
To explain this Easter gift of forgiveness to kids, take two glass jars — one with bleach and the other with water and liquid food coloring added to make it look dark (mixture of blue, red, and green). Show kids the dark jar and talk about how sin makes their lives unclean before God, while also hurting their relationships with Him and the other important people in their lives. Then, show the jar with bleach and explain that although Jesus lived a perfect life, He willingly died on a cross to take the punishment for our sin upon Himself. Next, pour the bleach into the dark jar so it becomes clear, and explain to the kids that when you believe in Jesus as the only way for your sin to be forgiven, you will be made right with God. Lastly, close with the principle that since Jesus willingly suffered to bring forgiveness for us, we should also willingly forgive others.
3. The Easter Gift of Eternal Life
Last but not least, the Easter Sunday celebration of Jesus' Resurrection points to the gift of eternal life. Of all the great people who have lived, only Jesus had the power to come back to life, and He now reigns in heaven as King. The moment you believe in Jesus, you become a child of God and He will help you live for Him. Then, after death, you will live forever with God — free from sin, sickness, suffering, and death. You will live with Jesus knowing perfect love, joy, peace, and goodness. The hope of eternal life provides endurance in this life by knowing that, despite any suffering you may face, something far greater will come.
How to Help Kids Learn About the Easter Gift of Eternal Life
What brings excitement to the kids in your life? Help your kids learn about the hope of eternal life with Jesus by asking them to recall one of their happiest moments or when they felt most at peace. Then, explain how heaven is a place where they'll feel more of that same kind of joy and excitement, but in its purest form, and without end. Their happiest moment will be nothing compared to the happiness they'll feel when they go home to Jesus in heaven — the greatest destination of all time.
And the reason we can go there is all wrapped up in the best Easter gifts ever given because of what Jesus did at Easter time.
Stay Connected with CEF
Subscribe to our email lists to receive updates, news, and stories based on your needs and interests.