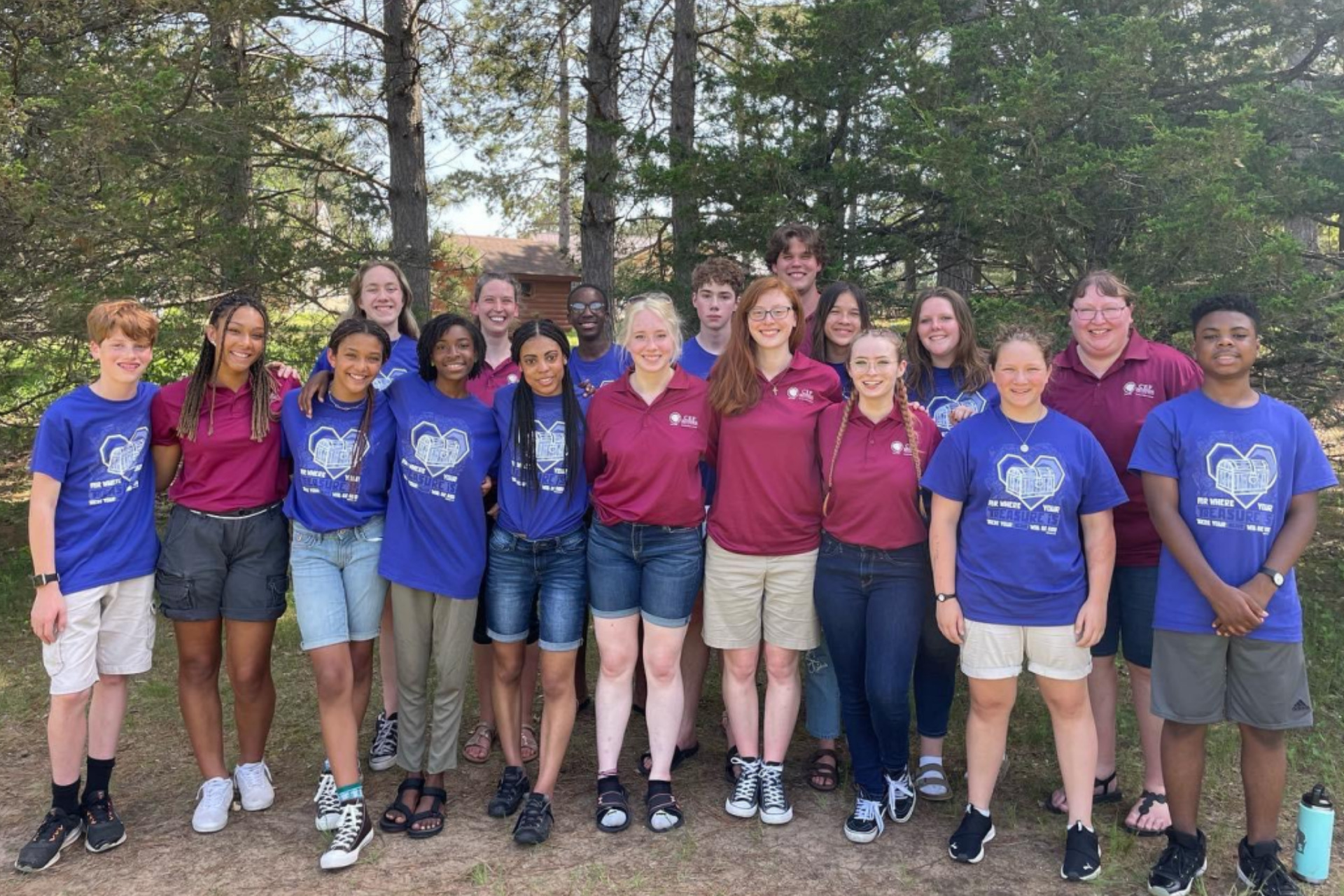 By Elizabeth Griggs 
Myra Johnson and Chloe Wagner are two Children's Ministries Institute® students who have been involved with Child Evangelism Fellowship® through Christian Youth in Action® in Wisconsin. They are two dedicated young women, sharing the word of God each summer with the kids in their communities. Both Johnson and Wagner began their journeys with reluctance to be involved in an outreach program, but discovered God in the midst of their training, and established a new passion for lost children. They found joy in ministry, and in the moving of God through the programs they are involved in. 
As young teens, Johnson and Wagner were both shy, and timid in regard to sharing their faith. They were introduced to CYIA™, and asked to participate in the program, to which they replied with a firm no. Neither of the young women were interested in the idea of getting outside of their norm, and pursuing the unknown of a camp. Johnson was saved at a young age, and recalls wanting to share her faith with those around her, but being unsure of how to do so. She grew up attending 5-Day Club®, run by CYIA students; however, she was not entirely sure who the leaders were, and where they came from. After an individual from church introduced CYIA to her family, Johnson was encouraged to participate by her sister, who had attended the program the previous year. Having heard this from her sister, Johnson prayed about it, and decided to obey the call to attend the training. Wagner, similarly, was resistant to attend CYIA as she when her pastor introduced it to her. She told God there was "no way I'm doing this", but eventually listened to the encouragement of the Spirit, and went to camp for CYIA training.  
Johnson recalls her training at CYIA as the "best week of her life" as she grew deeper in her Christian faith. She states that as she was being trained to deliver the message of the Gospel to children, she began to truly understand the Good News, and what it was that Jesus did for her. She gained answers to questions she had pondered as a child, and found purpose in being able to answer those same questions for the children she was ministering to. Wagner, too states that CYIA impacted her life drastically. Being a shy, timid child, she was intimidated when speaking in from of people. Through her time ministering to children, Wagner has found a joy and love for public speaking, in direct opposition to what she felt as a child. Both women felt a passion for CYIA and the mission of the program, and have been involved for the past five years. They served as students four of those years, and have recently served as staff this past year. They found God at work through CYIA, in more ways than they were expecting.  
Although CYIA is intended to teach youth and young adults how to effectively minister to children, both ladies discovered God moving in their own lives. Johnson was taught how to have a deeper relationship with God. In the past, she limited herself to simply going through the motions, and living in a manner that was expected of her as a Christian. The intentionality of her walk with God was lacking, but she found CYIA changing her mindset on her salvation. She found herself as more than simply a servant, or child of God in title, and began living in a manner worthy of Him. The way she lived her life outside of church changed as she came to the realization that God was not a being that was far away from her, but He was with her throughout her daily life. Wagner states that her time at CYIA has always been accompanied by a time of self-growth. During her first year, the speaker at the camp spoke on the topic of backsliding in one's walk with Christ. Wagner felt that she had been struggling with this in her daily life. She surrounded herself with individuals who didn't share her faith, and as a result began to walk away from God. Her time at CYIA brought her closer to people who believed God the way she did, and encouraged her to grow deeper in Him. She began to rely fully on God, rather than her peers, and started to completely trust Him with her life. Each year Wagner has gone to CYIA, she has felt God pulling her closer to Him, and forming a stronger relationship with her.  
As Johnson and Wagner serve as staff, they are witnessing a growth in children reached with the Gospel. In spite of the decrease in CYIA students due to Covid, Wisconsin has experienced an uptick in children attending 5-Day Club. Wagner recalls the impact of these clubs in an interview with Lydia Kaiser, sharing the life-changing effect attending the summer club had on one child. He grew from a disruptive participant in the first year of his attendance, to a helper in his fifth year. Wagner states that, "[there is] no greater joy than to lead a child to Christ". God is moving, and impacting the lives of young people-be it a child in attendance at clubs, or a student leading the ministry. CYIA participants are living out the call in Matthew 28, making disciples, and teaching them the things Jesus commanded.  
Stay Connected with CEF
Subscribe to our email lists to receive updates, news, and stories based on your needs and interests.