Uvalde, One Year Later
By Lydia Kaiser
The media has descended on Uvalde, Texas, marking one year since the horrific shooting at Robb Elementary School. Poking and prodding the townspeople with questions to get an emotional rise out of them, they are doing more harm in the opinion of Child Evangelism Fellowship® (CEF®) local ministry director, Angela Carillo. "They are stirring the pot and poking wounds" she states.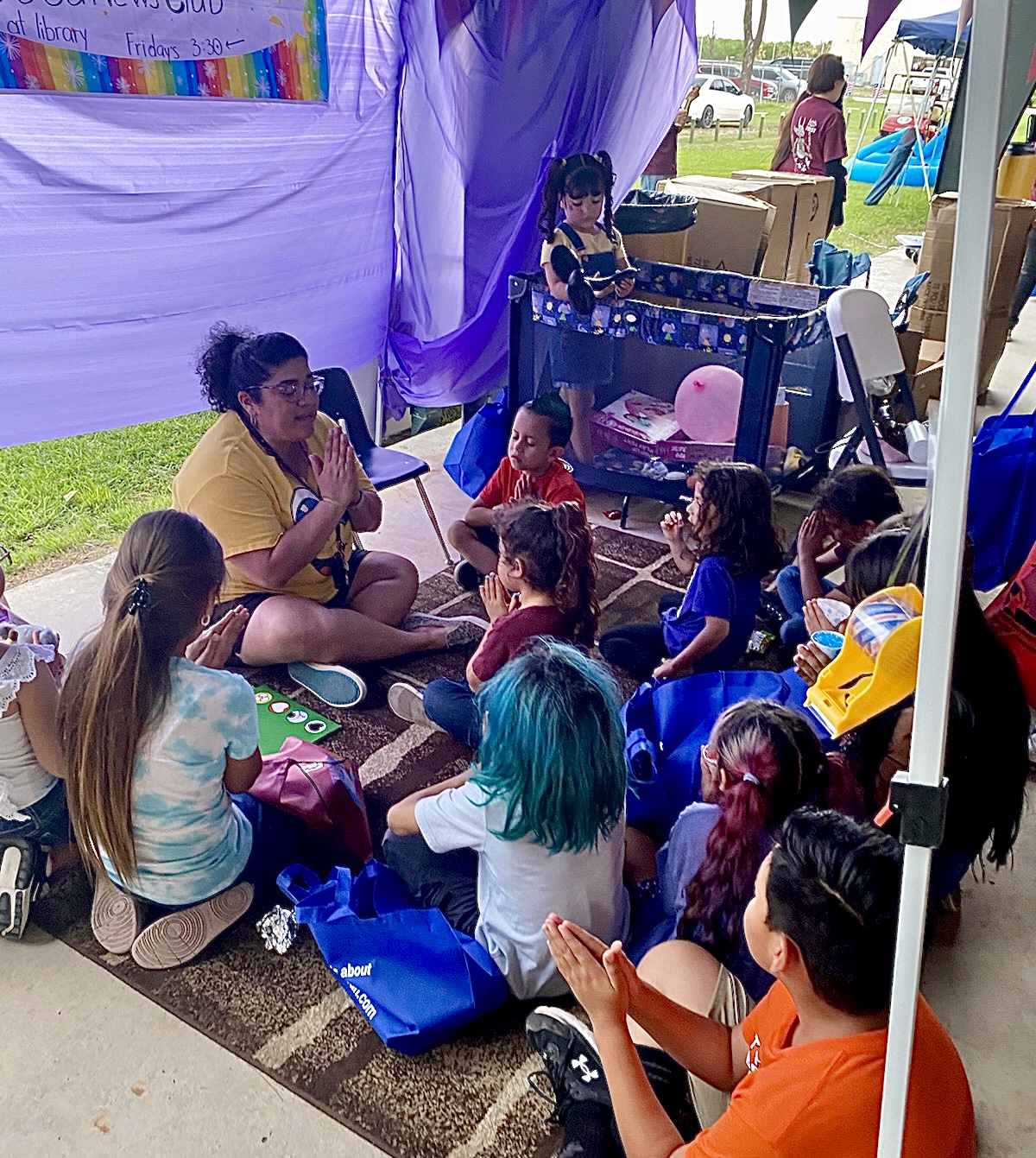 On that fateful day, May 24, 2022, East Texas State Director for Child Evangelism Fellowship, Mimi Sellers, instantly had flashbacks to the 2018 high school shooting in Santa Fe. Comparing the two tragedies she says, "The best thing we did was keep the media out. Churches were strong, we were able to heal. When the media comes back to Uvalde on the anniversary of the shooting, we can expect protesting and possibly riots."
The town already had a lot of challenges. Extreme poverty not only plagues the townspeople but prevents gathering enough taxes to help with civil government infrastructure. People who couldn't afford to lose their jobs suffered such grief and turmoil that they didn't go to work and lost employment. The ripple effect has caused the economy to suffer even more. People have spiraled down with grief, guilt, regret, and blame. The media goads people into venting about what hasn't happened by way of improvements since the shooting. People wonder what happened to the donated money and the promises for better school security.
The atmosphere in the town is one of volatility. Loud people are approaching others, even people in their cars, and intimidating them. People feel vulnerable and afraid—when they're not feeling angry.
Sellers summarizes the complexity and hopelessness. "There has been an economic, emotional, and spiritual collapse. There is a need for someone to rise up and take the town and turn it around. We know that Jesus is the answer." Sellers and her ministry colleagues are strategizing on two levels.
The first part of the strategy is a partnership with churches to reach children and their families through various community outreaches. The second part has to do with long-term sustainability for ministry.
After the shooting, 22 CEF volunteers from around Texas and even from headquarters in Missouri came to Uvalde and did street ministry. They started by connecting with pastors who themselves were traumatized. They were with families as they went to the hospital and morgue, viewed unspeakable things, and some were touched even more personally. At one point, CEF workers and pastors met for a strategy meeting. "You are the first people to ask us how we are doing" they said.
CEF volunteers brought 19,000 copies of a gospel-centered trauma healing booklet by the title, Do You Wonder Why? for distribution. They walked the streets offering to pray with people and distributing both English and Spanish booklets. Representatives from the schools and library took thousands of copies each. Churches used the booklet that very Sunday. 10,000 more copies were sent in June.
One of the CEF staff who came to the town was Angela Carillo, the CEF Local Director for San Antonio. After seeing the spiritual openness of the Uvalde townspeople, she just couldn't leave. God provided for her to stay in town for eight months. She was able to hold several trainings and establish a local CEF ministry, coordinated by Silvia Alvear, a woman with administrative and teaching skills. Alvear leads the children's ministry at her church and has made inroads with a few others.
Carillo learned there had been a Good News Club® at Robb Elementary prior to the COVID pandemic and several of the children who had been killed in the shooting had attended that club. Carillo choked up as she related that it was a bittersweet comfort. The church which had directed the club discontinued it due to COVID and its aging members were afraid to return and start it up again.
Most churches in town have not recovered from the shooting. Families with children or families who lost children have seemingly lost faith and are not attending church. Most churches are aging, and the pastors are demoralized. However, there are two bright spots.
One of the CEF volunteers, Lolita Garza, spoke to three girls (two siblings and a cousin), their mother and aunt. The mother explained that her daughter, Stacy, had climbed out of a school window during the shooting. This was the first day she was willing to come out of their house and she had not spoken for four days since the shooting. Stacy stood there quietly—her face expressionless.
Lolita used her evangelism tool, the Wordless Book, and the Do You Wonder Why? booklet and explained the gospel to all of them. She very carefully shared with Stacy how that Jesus promised to never leave her or forsake her, and no matter what happened, even if she died, she would be safe with Him. Her face took on expression and she prayed out loud to receive Jesus as her Savior, as well as the other two girls and mother. Lolita recounted her own joy to be used by God in such a way on that very heavy day.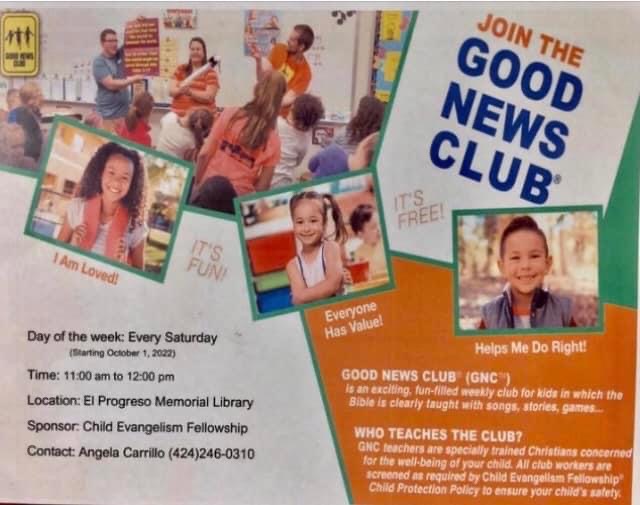 Templo Christiano, which holds services in both English and Spanish hosted a volunteer training by Carillo and Alvear. Ten volunteers from the church help at the library's Good News Club and the church held a CEF Party Club booth at a recent Dia Los Ninos fair. In the past, the church passed out candy, toys, and did games. But with Alvear's direction, they had multiple programs with a Bible story and led over a thousand children and parents in prayer to receive Jesus as their Lord and Savior. The church pastor loved the improved format.
Silvia Alvear learned about a program called Camp Healing by the HEB Foundation in Virginia. She invited the foundation to come put on a program and learned how to incorporate art, discussion, and games in a way that helps children talk about the hard things in their lives. Now she leads her church in a quarterly Camp Healing. She added significant Bible teaching to the program, using her CEF training.
The public school after-school program coordinator has approved a Good News Club to begin meeting this fall in the area public schools. There are four schools so the team of 10 volunteers that Carillo and Alvear have trained will send two people to each school and the school program coordinator will assist with helpers. Alvear says, "We are encouraged that the Gospel is going out and desperate people are coming to the Lord. But there is much to be done."
These little bright spots can begin to turn the town around, but one more element is missing. East Texas State Director Mimi Sellers is looking for some outside support for this small town. "We need Hispanic men from strong churches in a hundred mile radius to come mentor key people in Uvalde. We also need financial support for two CEF workers so the work will be sustained. I've seen it many times, where passionate and skilled people have to leave a productive ministry to support themselves. They also have expenses associated with doing the ministry. They've stepped up in faith and now we need to keep them moving forward." Sellers is talking to various churches in East Texas about those two needs, looking for who will receive the blessing by answering the call.
One year after the shooting and the wounds in Uvalde are still bleeding, requiring a spiritual doctor. Jesus said He came to bind up the wounds and heal the broken hearted and then He commissioned believers to be His hands and feet through the power of the Holy Spirit. Who will claim the words of Jesus and be the doctor?
The Spirit of the Sovereign LORD is on me, because the LORD has anointed me to proclaim good news to the poor.
He has sent me to bind up the brokenhearted, to proclaim freedom for the captives and release from darkness for the prisoners, to proclaim the year of the LORD's favor and the day of vengeance of our God, to comfort all who mourn, and provide for those who grieve in Zion— to bestow on them a crown of beauty instead of ashes, the oil of joy instead of mourning, and a garment of praise instead of a spirit of despair.
They will be called oaks of righteousness, a planting of the LORD for the display of his splendor (Isaiah 61:1-3 NIV).