Every Child, Every Nation, Every Day
For Parents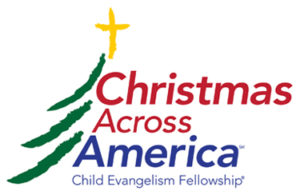 Adults and children alike enjoy a good Christmas party, and Child Evangelism Fellowship® (CEF®) has developed an extraordinary program called Christmas Across AmericaSM, a fun, evangelistic and innovative event for kids! Ultimate Christmas parties celebrate one of the most amazing events in all of history—the birth of Jesus!
---
Children across America are having a blast at Ultimate Christmas Parties: fun-filled celebrations with games, songs, treats and a Bible story.
The story we share is the one Christians have shared for two thousand years, just like Linus shares in "A Charlie Brown Christmas": the Good News of how Jesus came to Earth as a baby to save all who believe.
---
Your child's safety is our top priority. We carefully screen every volunteer who participates in these Christmas parties, and if you'd like, you're always welcome to stay and observe.
---
There is no charge to be a part of this event. It's our gift to you and your children. Bring your kids to an Ultimate Christmas Party – they'll have the time of their lives! Find an Ultimate Christmas Party in your area by contacting your local CEF chapter.  Local churches have partnered with Child Evangelism Fellowship to offer children in your community the fun of an Ultimate Christmas Party.
---
Child Evangelism Fellowship is a Bible centered organization composed of born-again believers whose purpose is to evangelize boys and girls with the Gospel of the Lord Jesus Christ and to establish (disciple) them in the Word of God and in a local church for Christian living.  Last year God used CEF to reach over 19.9 million children around the world.
---